Rooms
Due to the limited size of the hotel CalaGrande , all rooms are expected to be double occupancy. We will contact everyone to arrange how the rooms will be assigned once all participants have accepted their invitations to come.

The cost of the conference per participant is 400 EUR. This includes full board (including Sunday dinner when you arrive), accommodation in a double room (strongly encouraged due to space limitations in the hotel). We are able to waive registration, pay for proceedings and subsidize your accommodation due to the kind support of our sponsors.

Also very important you need to pay for your accommodation by September 15, 2014 via bank transfer:

Recipient: Hotel Calagrande
Subject: Hot Quarks, Last name, First name
IBAN: ES94 3058 0181 0627 2001 2778
BIC/SWIFT: CCRIES2AXXX
Bank Name: Cajamar Caja Rural
Address: C/ Correo sn, San Jose, 04118, Almeria, Spain


If you would like to have a single room occupancy it will cost you 250 EUR extra.

If you would like to bring a companion not involved in the conference the charge is 525 EUR, which includes full board, coffee breaks and sharing the room with you.

If you would like either a single occupancy room or to bring a partner please send an e-mail to hot-quarks-organizersATcern.ch to check for availability of rooms and to organize paying the extra fee.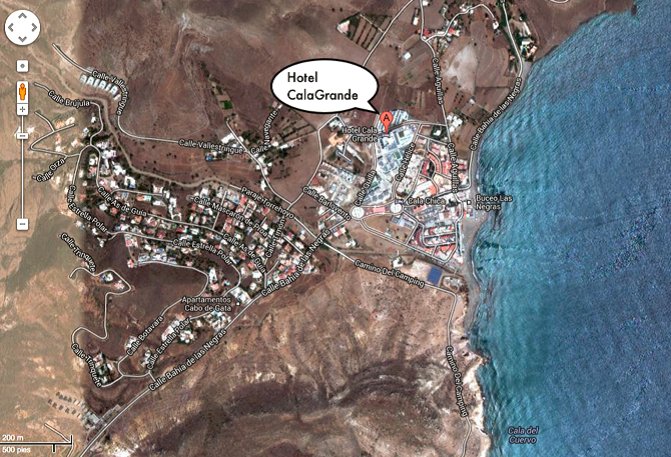 Travel
The village of Las Negras is located about 50 km from Almeria airport. Although Almeria airport is relatively small it serves direct flights to some European capitals and it also has daily flights to Madrid and Barcelona (Iberia and Vueling) for international connections (see here a full list ). Some of those flights are seasonal.
Following flights were available during September 2013:
RYANAIR: Brussels Charleroi (CRL), Dusseldorf (NRN) , East Midlands (EMA), London-Stansted (STN)
JETAIR FLY: Brussels
EASYJET: London Gatwick (LGW)
MONARCH: Manchester, Birmingham
AIRBERLIN: Connection on Sundays (only) with Palma de Mallorca, 3rd biggest airport in Spain with flights to most European capitals (see here )
In addition there are other two big airports in the SE area: Malaga and Alicante . Both are approximately 260km away from Las Negras with existing (but highly non trivial) public transportation. Therefore car rental to get to conference venue is recommended.
Other small airport is the Granada airport. It has several daily flights to Madrid and Barcelona. Bus connection from Granada to Las Negras or Almeria (200-160 km away) is relatively straightforward (http://www.alsa.es).
Taxis from/to the airport can be arranged at a prize of ~40 euros approximately. Rental cars cost around 80-90 EUR/week.
!!! NEW !!! Shuttle service from the Almeria airport
As many participants are in the end arriving to the airport in Almeria, shuttle bus service will be provided on Sunday, September 21. We have grouped participants arriving to Almeria according to the information provided at the Indico registration page, details of your shuttle departure can be found here . Please print this PDF file as it contains also important information for other arrival places and the emergency contact to Javier Albacete and the hotel should you experience troubles on your way to the hotel.
Visa requirements
Please check the visa and passport requirements for your country. Invitation letter to support your visa application will be sent to you upon request.
Cash/Money
There are no ATM machines in Las Negras. The closest one to the hotel is ~ 20km away. Those coming from outside the EURO zone can get their cash at the Almeria/Malaga airports. However, in most of the shops and restaurants in Las Negras (but not all) it is possible to pay with a credit/debit card.
Meals
The hotel restaurant offers very good mediterranean cuisine. Vegetarian meals are served upon request. Please contact us in advance if you have dietary restrictions. Weather in September is typically very good for hiking as well as going to the beach. The typical temperature in September is about 23-25 C. Chance of rain is quite low, although there might be some rain at the end of September.
Conference Excursion
On Thursday, September 25, 2014 a visit to Granada and the Alhambra will be organized. After the morning session, each participant will get a picknick lunch bag, a map of Granada and the Alhambra access ticket and information leaflet before departure. The bus trip will last approximately two hours. The expected arrival back to the hotel is around midnight.
Activities
Cabo de Gata offers many possibilities for outdoor activities. The easiest option to enjoy the free time to Las Negras is going to the beach. Water temperature should be around 20-24 degrees and the sea is normally quiet this time of the year. Note, however, that Las Negras beach is a bit shingle, so bringing a couple of wet socks can be handy (otherwise you can buy them at Las Negras for around 20 euro). Other beaches nearby, like El Playazo o Cala San Pedro are sandy.
BIKING/HIKING Bike rental is possible on-site. Biking is a good way for visiting the different beaches in the area, not too far from each other. A list of biking/hiking trails can be found here .
SCUBA DIVING/SNORKELING One of the greatest wealth of Cabo de Gata is under the sea. Actually it is one of the main destinations for divers in Spain. Many different clubs and schools offer introductory courses, but just snorkeling nearby the beach is a very good option.
KAYAKING Yet another option to discover the different beaches in the area, some of them only accessible by sea or after a tough hike. The sea is normally very quiet during late summer and early fall.
We will offer participants the possibility to sign up for outdoors activities every day during lunch break. The lunch break starts around 12.30 and lasts approximately until 16.30. The afternoon session starts at 17.00 sharp. The interested participants will pay for the activity directly to the instructor. The price list will be hanged on the board at the conference desk.
Additionally, in Cabo de Gata there are many companies that offer either equipment rental, guiding etc. for all the activities listed above. A list can be found here .
SPA in the hotel
The hotel offers one free pass per participant and accompanying person to the hotel spa circuit.